Alpha Phi Alpha Fraternity, Inc.
Alpha Alpha Lambda Chapter, Inc.
Founded October 13, 1926
Do you not know that in a race all the runners run, but only one gets the prize? Run in such a way as to get the prize.
Everyone who competes in the games goes into strict training. They do it to get a crown that will not last, but we do it to get a crown that will last forever.
I Corinthians 9:24-25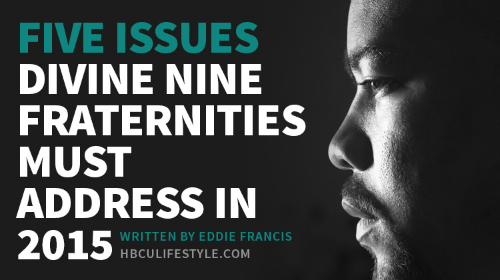 Bro. Eddie Francis
Loyola University, New Orleans, LA
Rho Epsilon, Spring 1989
HBCULIFESTYLE.COM
There was quite some discussion in 2014 about the
five issues I felt Divine Nine fraternities should address
.
As 2015 has rolled in, I realize that one issue seems to never go away while events throughout the course of 2014 gave me perspective on more things to which our fraternities—Alpha Phi Alpha, Kappa Alpha Psi, Omega Psi Phi, Phi Beta Sigma, and Iota Phi Theta—should pay attention.
Let's consider two things before we dive into the five issues Divine Nine fraternities should address in 2015. First, it matters not which fraternity feels it is separate from the other four. As far as Joe Public is concerned, we're all alike. We wear our letters like billboards, we step, have a great time, get loud, wield our influence like swords; and almost every single one of our members claims that he belongs to the best, if not the most relevant, organization (as we should). Second, all eyes are on us on the heels of our helping our dear Divine Nine sisters defeat the infamous "Sorority Sisters" reality show. When people, especially black folks, pay attention to what you're doing, that means you're under a serious microscope.
That said, here are the issues Divine Nine fraternities must address in 2015 so that we may better serve our communities:
HAZING
Easily and unfortunately, hazing is the biggest issue that black fraternities, particularly those of the Divine Nine, still must address. Since the beginning of 2014 there have been hazing allegations leveled against Divine Nine fraternity chapters on at least nine campuses and lawsuits totaling more than $8 million have been filed. One of those resulted in a $1.6 million judgment while the others are pending. Young men have had their mug shots appear in the media and at least one who was arrested in 2014 greeted 2015 from a jail cell.
Because of hazing, the liability for Divine Nine fraternities has become unreal. Scholar and Divine Nine member Attorney Gregory Parks, Ph.D. wrote in his blog "The End of BGLOs":
"The only thing that truly stands between BGLOs and plaintiffs in hazing lawsuits is the insurance industry. Unfortunately, there are few insurers of college fraternities and sororities. With the steady flow of hazing litigation involving BGLOs, it is not inconceivable that at some point it becomes unprofitable for any insurer to cover any particular BGLO."
While there is a peanut gallery of inactive members trying to make sure that every new member is "made right" or "real," our fraternities are stuck with leaders and active members trying to find ways to keep our organizations insured and solvent.
The real shame is too many Divine Nine fraternity members still fail to see the ultimate risk of hazing—death. Consider this. Joel Harris, who died due to hazing in 1989, should be alive and successful in his mid-40's possibly enjoying a family. Van Watts, a 1983 victim, could possibly be counting down to retirement. Both Joseph T. Green (2001) and Michael Davis (1994) could also be alive and enjoying wonderful careers and families and the list goes on with at least 10 more men and women who are no longer with us because of hazing.
We should make 2015 the year that Divine Nine men commit to two things. First, learn the names of the people who were robbed of their dreams. Identifying the victims will make fraternity members act like true big brothers to their aspiring members. Second, speak up. Those of us who once thought that hazing was the way to go but have grown up need to impart our wisdom on younger brothers. We can help our fraternities grow by finding new ways to help men earn our letters.
ACADEMIC ACHIEVEMENT
In doing "The Black Greek Success Program", I have been to campuses where Divine Nine fraternity chapters sport such laughable GPAs as 2.1 and even 1.7. The biggest joke is not only do some of these chapters think they "run the yard" but they actually claim they "run the yard." I wasn't an academic superstar my entire college career and that's why I have to warn my young brothers about losing focus.
All five Divine Nine fraternities have a commitment to scholarship embedded somewhere in their aims, ideals or missions. Running the yard is about doing everything your fraternity stands for. The national organizations, colleges and universities have to get tougher on chapters about committing to academic excellence by continuing to threaten chapters' and members' statuses. Like hazing, I call on those of us who know better to tell stories of how academic excellence creates real yard runners and career opportunities for members.


UPLIFTING YOUNG BLACK MALES
Theoretically, this should be number one but we have to fix our internal issues to be more effective to the people we serve. As Divine Nine fraternity men, we have an obligation to do whatever we can to help our young black males.
The public should note that Divine Nine fraternities and chapters have programs in place to enrich the lives of young black males. Alpha Phi Alpha reaches out to young black males through Project Alpha, Go-to-High School, Go-to-College and chapter mentoring programs, Omega Psi Phi does so through its Talent Hunt Program and chapter mentoring programs, Kappa Alpha Psi has the Kappa League, Phi Beta Sigma has the Sigma Beta Club, and Iota Phi Theta reaches out to young black males through their Iota Youth Alliance. Also, hundreds of unsung members commit to developing black males through education and other mentoring initiatives and partnerships such as President Obama's My Brother's Keeper program, Big Brothers Big Sisters, the Boy Scouts of America, etc.

I call on Divine Nine fraternity members to continue their efforts. To those who are not active, strengthen your respective organizations' programs and initiatives by getting active and giving whatever time you have. In 2014, chapters creatively reached out to young black males through events such as community forums with law enforcement. Most of all, it would be encouraging to see more collaborative efforts such as the partnership between the Kappa Alpha Psi and Alpha Phi Alpha chapters in Huntington, W.V.
PROTECTING OUR BRANDS
I love hearing people talk about enhancing the marketing footprint of their organizations and many of us need to take the hint in Divine Nine fraternities. It is beyond obvious that too many, especially on the undergrad level, do not view their fraternities as extensions of their personal values. Heck, maybe fewer of our members care about values than we realize.
In 2015, I would love to see Divine Nine fraternity chapters commit to helping members practically apply the principles of marketing and public relations to uplift our organizations' brands. When we dismiss the public's curiosity or eschew our members' transgressions, the public sees us as nothing more than letter-wearing, platitude-making clowns. We can't excite audiences and intrigue men interested in our letters with speeches at meetings but leave the rest of the public wondering what the big deal is. Let's invest in making positive impressions on the public by walking the walk.
"REAL VS. PAPER"
This debate irks me but it is real. Too many of our members allow their feelings about how folks are initiated to divide chapters, thereby rendering said chapters ineffective (in carrying out the missions of our fraternities). Some believe that those who go through underground processes, which often include hazing, are "real" brothers. Those who go through their organizations' nationally sanctioned intake processes just signed a piece of paper (making them "paper" members). I can only speak for one fraternity's intake process but the reality, regardless of the organization, is there are no statistics that prove underground pledging makes members more productive once they are initiated.
We need to make 2015 the year that we worry about the business of developing brothers, regardless of how we feel about their intake processes. I can easily think of "paper" members who are active members and way more productive than those who "took wood" back in the day. Instead of feeling some kind of way and engaging in this brainless discussion, it is time for us to recognize who is active and involved and to give them the respect they deserve.

Fraternity Goals & Objectives
For more than a century, an effective leadership network for black male college students has existed with dynamic results. The fraternities of the
National Pan-Hellenic Council
—
Alpha Phi Alpha
,
Kappa Alpha Psi
,
Omega Psi Phi
,
Phi Beta Sigma
,
and Iota Phi Theta—have helped provide members with avenues to
become effective leaders in communities around the world.
As Iota Phi Theta celebrated its 50th anniversary in 2013 and Phi Beta Sigma celebrates its centennial in 2014, (with Alpha Phi Alpha having celebrated our centennial in 2006 and both Kappa Alpha Psi and Omega Psi Phi having celebrated their respective centennials in 2011), questions loom about the effectiveness of our organizations.
Going into 2014, there are five critical issues that black fraternities, namely members of NPHC, must address:
1. Membership Selection
From chapter to chapter, black fraternities have come under fire for how we select potential members. In the court of public opinion, there are too many members who simply don't seem to uphold the aims and ideals of our organizations as evidenced by behaviors such as academic mediocrity and poor social skills. At the same time, too many chapters are criticized for denying membership to men who appear to fit the respective missions of our organizations very well.
Black fraternities must clearly identify and define what makes a potential member a quality candidate and the chapters must be consistent. This is serious business. We are expected to stand on the shoulders of great men like Martin Luther King, Jr., George Washington Carver, Carter G. Woodson, U.S. Rep. Bobby Rush, Arthur Ashe, and countless other Black Greek luminaries.
2. Hazing in Black Fraternities
We continue to see national media stories on a consistent basis about hazing incidents among black fraternities. Hazing is not unique to our ranks, however, it affects the black community more significantly than any other community. NPHC organizational leaders have worked tirelessly to discourage hazing but significant alternatives are needed. In my commentary, "Improving the Black Greek System Through an Intellectually Rigorous Intake Process", I call for our organizations to adopt an intake model that is based on an extensive vetting process, human resources training modules, and use of human resource metrics.
3. Misbehavior in Social Media
I don't even know where to begin with this one. Too many black fraternity members seem to completely miss the part about representing the letters with dignity and pride. Either some get sucked in by the "instant celebrity" of social media or they are too selfish to be in a fraternity in the first place. Organizations must hold members as accountable for objectionable content as they hold them for hazing. Mindlessly dropping N-bombs, F-bombs, P-bombs, etc. and posting trash for the world to see has greatly compromised the quality of our organizations.
4. Diminished Public Perception
In the 2006 book, "African American Men in College", one of the challenges identified for black fraternities was diminished public perception; and that challenge still exists. Having been a public relations director for institutions with damaged brands, I found that media outlets won't come running every time someone does something nice. Effective public relations is about creating opportunities to tell your story, especially when no one else will.
To create public awareness about members who represent their letters with dignity and pride, our organizations must utilize the widely-read front line resources that are available to us–our web sites and social media. We should also take advantage of opportunities to partner with media outlets. Having worked in urban radio, I know that radio stations that cater to Black America are willing to help us tell our stories. It's not about getting exposure from news giants, it's about creating exposure then aggressively promoting content.
5. Black Male Leadership Development
All black fraternities have some sort of leadership development initiative and that is a fantastic thing, but we must answer the call to intellectually fortify young black males on a more substantive level. The founders of each fraternity were thought leaders and the need for thought leaders in the black community is as critical as ever. Black fraternities are well-positioned to create knowledge and opportunity among young black males.
Internally, members must be developed just as people in the workforce enhance their careers via professional development. Members must also be pushed to acquire intellectual capital via post-graduate degree attainment and/or career leadership. Our fraternities must also continue mentoring initiatives and tell the stories of those who have benefited from our programs and initiatives.