Alpha Phi Alpha Fraternity, Inc.
Alpha Alpha Lambda Chapter, Inc.
Founded October 13, 1926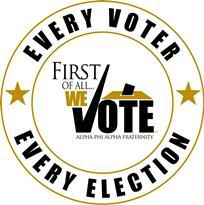 "A Voteless People is a Hopeless People" was initiated as a National Program of Alpha Phi Alpha Fraternity, Inc. during the 1930's when many African-Americans had the right to vote but were prevented from voting because of poll taxes, threats of reprisal, and lack of education about the voting process. Voter education and registration has remained a dominant focus of this outreach activity for over 80 years.
Bro. Ainsley Reynolds - 2014
Voteless People is a Hopeless People Address